Polo 6N - 1995. T-Roc - 2020.
Greetings everyone!
After my initial introduction of "Clementine"
here
, I thought I'd continue with the updates of it in a topic with photos
So Clementine was picked up on mid February 2020 and is an energetic orange with black roof, 2.0 TSI Sport, R-Line with a lot of extras.
A week later it was de-chromed (everything wrapped in black) and painted the brake calipers in orange, followed by powder coating the 18" Sebring rims to glossy black 2 weeks later.
After that I went back to the wrapping company and had the rear lights and the front day lights/indicators tinted, and added a sunscreen line on the top of the front window.
The last things I did to it for now, during the last 2,5 weeks, were to replace the wrapped rear emblem with a painted one that has the inlays in the chassis colour and had the rear bumper customized, to remove the fake exhaust tips, close the openings. And had the whole car polished and applied with ceramic coating to maintain its shinny colour.
:mrgreen:
Without further ado here are some pics from all the different states.
Day #4 with the car
Chrome deleted
View attachment 2491
View attachment 2492
Painted rims
View attachment 2497
Tinting lights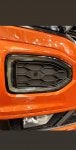 Customized rear and coated
View attachment 2662
I'll be posting updates over time as the changes continue